Hamburger Dreams
How Classic Crime Solving Techniques Helped Crack the Case of America's Greatest Culinary Mystery
Author Biography (full version – 513 words):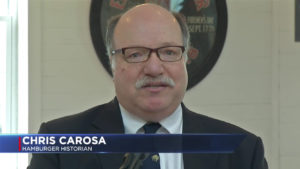 Christopher Carosa is a popular and entertaining speaker who has appeared from coast to coast. He is a contributor to Forbes.com, Chief Contributing Editor at FiduciaryNews.com, and a columnist for Benefits Pro Magazine and its digital news service. As an award-winning financial writer, his thoughts and opinions have been sought out by such major media outlets as The Wall Street Journal, The New York Times, USA Today, Barron's, CNBC, CNN, and Fox Business News. But his work isn't limited to money talk. A long-time newspaper columnist writing on everything from white cream donuts to international geopolitics, he's been recognized by the New York Press Association for his editorial writing as well as his feature series writing. In 2018, he was elected president of the National Society of Newspaper Columnists for a two-year term.
Mr. Carosa has accumulated a long, variegated, and successful record as a practitioner in the financial services industry. After earning a degree in physics and astronomy from Yale University in 1982, he joined a small regional investment adviser. He earned his MBA from the Simon School at the University of Rochester and the Certified Trust and Financial Advisor professional designation from the Institute of Certified Bankers.
In 1989, when his hometown paper abruptly and unexpectedly folded, he founded The Mendon-Honeoye Falls-Lima Sentinel, a weekly community newspaper. He sold that paper to fund the start-up of Carosa Stanton Asset Management, LLC, a boutique investment firm where he serves as president. He's also Chairman of the Board and President of Bullfinch Fund, Inc. a series of flexible no-load mutual funds, including one that concentrates its investments in Western New York companies. His wife eventually re-acquired The Sentinel and Mr. Carosa has returned to his old position as publisher and columnist.
Mr. Carosa has written several books. Of note is 50 Hidden Gems of Greater Western New York (Pandamensional Solutions, 2012). This volume, written in Mr. Carosa's familiar light-hearted and entertaining manner, reveals some of the most delicious underexposed treasures the region offers. These people, places and events not only help define Greater Western New York, but have often helped define America as well.
Individual chapters within 50 Hidden Gems have inspired two additional books. One is Hamburger Dreams. The other is A Pizza The Action: Everything I Ever Learned About Business I Learned by Working in a Pizza Stand at the Erie County Fair. Though he spent his youth working in his grandparents' pizza stand there, he didn't discover the Erie County Fair hamburger origin story until he was a college senior in New Haven, Connecticut, ironically, the location of what was then a more well-known hamburger origin story.
If you'd like to read more by Mr. Carosa, feel free to browse his author's site, ChrisCarosa.com; LifetimeDreamGuide.com, a site to another book he's working on; his site devoted to his first love, AstronomyTop100.com; and, HamburgerDreams.com, where you can discover additional bonus material about hamburger history (and perhaps even a few family recipes!).
Mr. Carosa lives in Mendon, NY with his wife, Betsy, three children, Cesidia, Catarina, and Peter, and their beagle, Wally.