Hamburger Dreams
How Classic Crime Solving Techniques Helped Crack the Case of America's Greatest Culinary Mystery
Author Biography (short version – 193 words):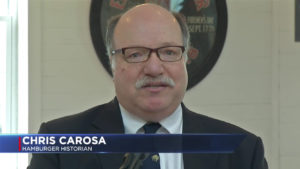 Christopher Carosa's writing is well appreciated. A long-time newspaper columnist writing on everything from white cream donuts to international geopolitics, he's been recognized for his editorial writing and academic research. In 2018, he was elected president of the National Society of Newspaper Columnists for a two-year term. The New York Press Association's 2018 Better Newspaper Contest awarded him Honorable Mention in the "Best News or Feature Series" category for the series of articles he wrote that form the basis for Hamburger Dreams.
Chris is the Publisher of the Mendon-Honeoye Falls-Lima Sentinel. Nationally, he is a contributor to Forbes.com, Chief Contributing Editor at FiduciaryNews.com, and a columnist for Benefits Pro Magazine and its digital news service.
Mr. Carosa earned his undergraduate degree in Physics and Astronomy from Yale University and MBA from the Simon Business School. He has been designated a Certified Trust and Financial Adviser by the Institute of Certified Bankers.
Chris is the author of 7 books, a stage play, and has been interviewed and quoted in such major media outlets as The Wall Street Journal, The New York Times, USA Today, Barron's, CNBC, Fox Business News, and the NBC Nightly News.