Hamburger Dreams
How Classic Crime Solving Techniques Helped Crack the Case of America's Greatest Culinary Mystery
Book Reviews: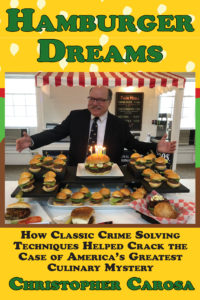 "It gives me delight to report Hamburger Dreams is both scrupulously researched and written with graceful style. I could not put it down and finished it in a single sitting."
Craig Shelton, James Beard Award Winning Chef, Shelton Hospitality Group
"The hamburger is the most American of sandwiches, and as such it's quite deserving of a definitive history tracing its 19th century roots. Chris Carosa has written the most detailed compendium of the birth and life of the American burger. He searched everywhere for primary sources and separated fact and fiction. His efforts have paid off. His book is one big triple cheese with everything on it."
Dave Lieber, The Dallas Morning News
"As a dedicated, if decidedly amateur food historian, I have always been fascinated by the potential big bangs of some of our favorite dishes. None more so than the blessed hamburger. In Hamburger Dreams Chris Carosa has created the most savory of culinary whodunnits, using the techniques of modern crime solving to examine the four major 'suspects' who claim to have created the World's most famous sandwich. I won't give anything away, but suffice to say, after reading this book, you will never look at a hamburger in quite the same way ever again."
Simon Majumdar, Author (Eat My Globe), Food and Travel Writer, Broadcaster, Podcaster
"Hamburger Dreams is not only a culinary 'Whodunit,' but a 'How did he do that?'
Faced with a plethora of hamburger lore, conflicting primary resources, and multiple family descendants vying for claim to the global giant of popular foods, Chris Carosa masterfully unravels each clue to this food mystery with the brilliance of a culinary gumshoe and the diligence of a conscientious journalist.
Foodies will delight in the human side of hamburger's story and culinary historians will awe at Chris Carosa's scholarship.
Like all good mysteries, Hamburger Dreams is a real page-turner with a surprising conclusion."
Pamela J. Vaccaro, Author, Beyond the Ice Cream Cone: the whole scoop on food at the 1904 World's Fair
"Hamburger Dreams is a fascinating and well-researched account of the origin of the hamburger. Part culinary-mystery and part documentary, I thoroughly enjoyed both Chris Carosa's investigation and the delightful way in which it was presented."
Liz Petty, Creator – culinarymysteries.net
"Chris Carosa is a born narrator who provides an immense amount of historical material with freshness and a sense of fun. It's hard to imagine the depth of his research. A personal note: reading Hamburger Dreams is almost as good as eating one."
Lois Anne Rothert, Author, The Soups of France
"With meaty research and tantalizing story-telling, Carosa slices and dices through competing claims on America's most iconic sandwich. A foodie's whodunit, this book will keep you hungry to read straight through to the end."
Beth Forrest, Food Historian and Professor at the Culinary Institute of America